Today I had a pouty, pouty day. I was in a bad mood all day until my mommy made me a cheesecake. Then I was happy. But then I was made happ
ier
by a great conversation with an "old friend," and we got to reminiscing about some fun times we had on the great continent of South America. Those who have read the blog for long or know me well know that I love love love Brazil. I've been three times and it really captured my heart.
To try to get me optimistic about life in general lately some people have suggested that I start thinking about plans for the future. Maybe, just maybe, the doors will open up for me to go to Brazil again. I don't know. I have lots of things that have to happen before I can think about that. But who knows. Maybe God puts these fires in your heart for a reason. You can bet I'll keep my eyes open.
Now, here is a photo tribute to my wonderful mission teams I've been to Brazil with. I dearly love every one (even helped one get married!) and they will always be precious to me.
LST 2001-- Aaron, Ben, Ann, Meredith
Click here
to read a story that may or may not be about this team.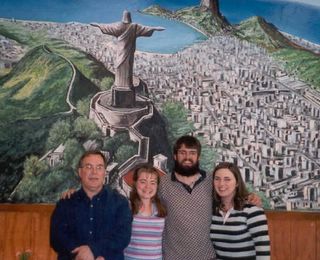 LST 2002-- Bob, Cherry, some hairy guy, Ann
Campaign 2004-- Ann, Cherry, Taylor, Bob
Posted by Picasa